BINOM MP003 TECHNICAL SPECIFICATIONS
Connectivity
GSM bands
850, 900, 1800, 1900
UMTS bands
850, 1900, 2100, 900
LTE bands
1, 2, 3, 4, 5, 7, 8, 12, 17, 18, 19, 20, 25, 26, 28, 29, 30, 38, 39, 40, 41
Internet
GPRS , EDGE , 3G , 4G
Bluetooth
A2DP, LE, apt-X, 5.0, aptX HD
Wi-Fi (802.11)
a, b , g , n , ac , with MIMO technology, 2.4 ГГц, 5 ГГц
NFC
yes
DLNA support
yes
Sync Connector
USB Type-C
Display
Display type
Optic AMOLED
Diagonal (inch)
6.01
Resolution (pix)
2160x1080
Pixel Density (PPI)
401
Number of display colors
16 million
Touchscreen
yes
Touch Screen Type
capacitive
Multitouch
yes
Display protection
Corning Gorilla Glass 5
Camera
Camera (MP)
20 + 16 (dual)
Diaphragm
f/1.7
Autofocus
phasic
Flash
dual LED
Video recording
yes
Video Resolution (pix)
3840 x 2160
Movie Frame Rate
30
Front camera (MP)
16
Processor
System on chip
Qualcomm MSM8998 Snapdragon 835
64-bit architecture
yes
CPU Frequency (MHz)
2450
Number of Cores
8
CPU
four 2.45 GHz Kryo cores and four 1.9 GHz Kryo cores
GPU
Adreno 540
Memory
Storage (GB)
128
RAM (MB)
8192
SD card slot
no
Multimedia
Audio player
yes
Video player
yes
MP3 call
yes
Audio jack
3.5 mm
System
Operating System
Binom OS
Connectivity
GPS , GLONASS , BeiDou, A-GPS, GALILEO
SIM card
SIM card
nano-SIM
Number of SIM cards
2
Power
Battery type
Li-Ion Non-removable
Dash Charge technology
yes
Battery (mAh)
3300
Body
Type
classic
Height (mm)
156.1
Width (mm)
75
Thickness (mm)
7.3
Weight (g.)
162
Made from
metall, glass
Other features
Sensors
Ambient Light Sensor, Proximity Sensor, GPS, Accelerometer, Gyroscope, Hall Sensor
Fingerprint Sensor
yes
EUROSIM TRAVEL SIM CARD
The phone comes with a pre-installed, roaming Eurosim travel SIM card. It is one of the key features of this device. Its presence in the second slot is required; otherwise, the phone will not start and will notify you about the need to install a SIM card. This is used to ensure the confidentiality and security of user data. If the phone is lost, you can just block the card through the operator Eurosim travel. As soon as the card is blocked - the phone will not work and will no longer start. To start using the phone again is possible only after formatting the device. When performing formatting, all user data, unique applications and special security settings are permanently deleted, turning the device into an ordinary smartphone with factory settings.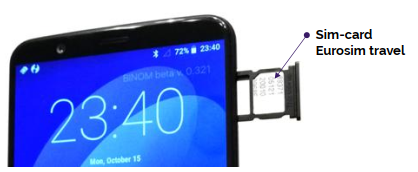 Warning!
You can install an additional SIM card in the first slot of your Binom device, subject to the availability of Eurosim travel SIM card in the second slot of your smartphone (see the picture above). We strongly discourage to install Eurosim travel SIM card in the wrong slot or try to start the device without it! The smartphone just will not work.
We are not responsible for data safety and privacy of your information in case of using a third-party SIM card.
TOP UP SIM CARD BALANCE
You can top up the balance of your SIM card on the website http://www.eurosim.travel/ in "Add funds" section.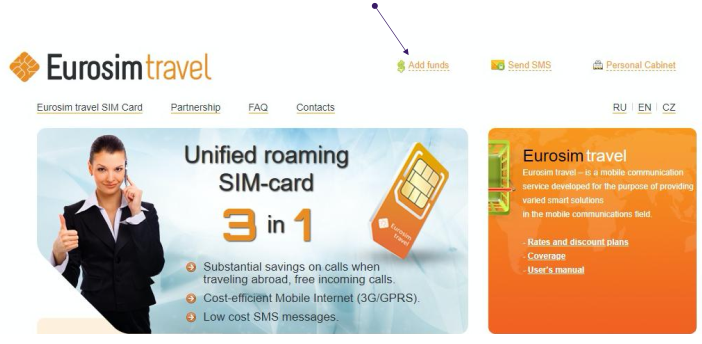 Warning!
Eurosim travel SIM card has no expiration date and requires no monthly fees. We offer "Pay as you go" approach according to the applicable tariffs.
Please enter your number, order amount, choose currency and fill in the customer details.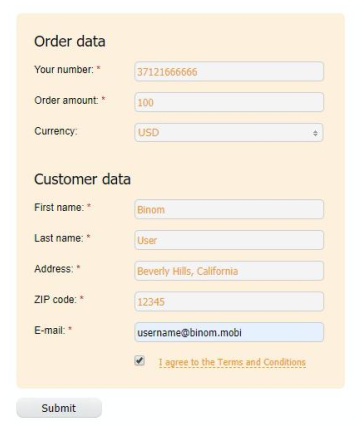 After submitting, you will be redirected to the payment gateway, where you need to enter your bank card details to complete the payment.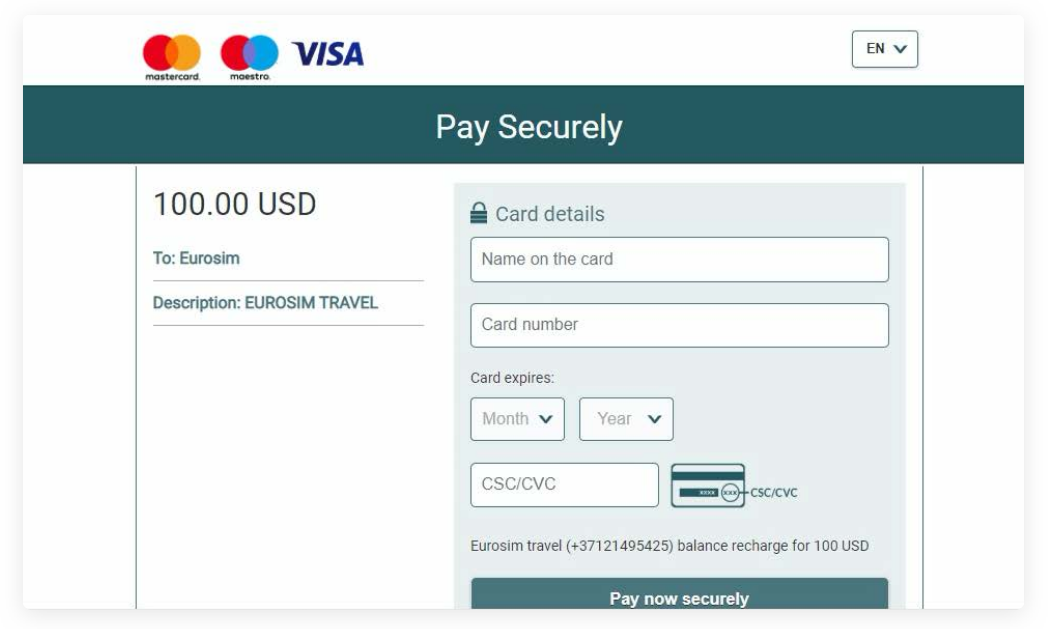 Users who can access their account via Fundsmate can instantly top up the balance of SIM card directly in the application.
Corporate clients can add funds via bank transfer.
PERSONAL CABINET
You can access a detailed information related to your SIM card on our website http://www.eurosim.travel in the "Personal cabinet" section.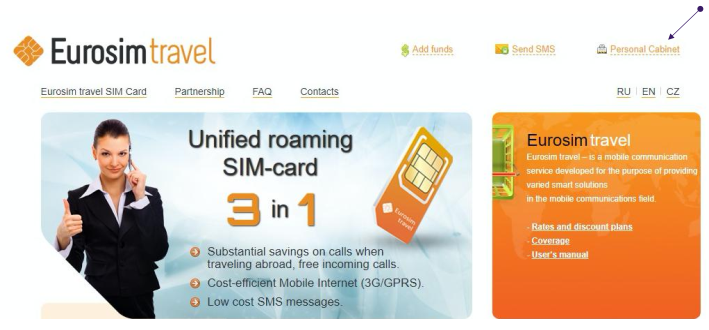 Please enter your number 37121ХХХХХХ (without +) in the Login field.
Please enter PUK2 code of your SIM card in the second field.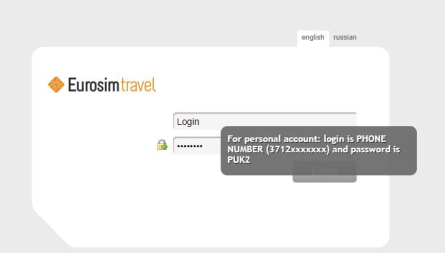 Here you can access details about your calls, SMS and GPRS data as well as many other useful information.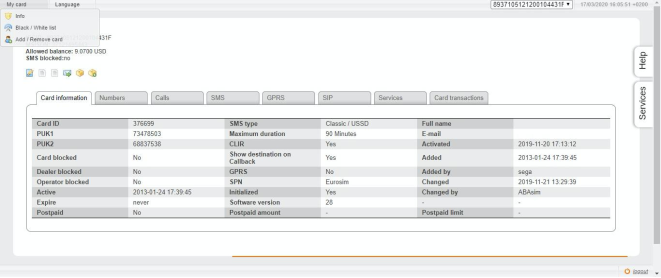 OPERATING SYSTEM
Binom smartphone is based on Binom OS supported Android 8.1.0. We have modified Android OS so that your data is stored only on your device and could not be transmitted to Google services or any other third-party service.
SOFTWARE DESCRIPTION
APP STORE
Ensuring your privacy required to abandon the use of the Google Play service when developing the Binom mobile platform. Your data is not collected by third parties through smartphone apps and operating system. In other words, your phone is not "listening" to you and does not forward your data for further processing. This has a positive effect on the power saving and smartphone performance. As an alternative to Google Play market, Binom users can utilize the Aptoide app - Android application store pre-installed on your device. With Aptoide you can find and install applications that you are used to, and do it anonymously, since no registration is required to download the application from Aptoide.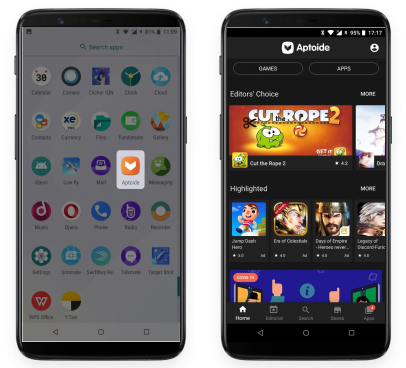 WEB BROWSER
The web browser that comes built into every Binom device is Opera. It use way less processing capacity than other browsers and have a built-in ad blocker that helps load webpages faster.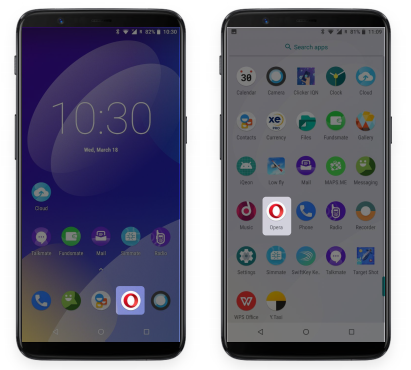 OFFICE
WPS Office is already installed in the standard set of applications. It fully meets the user needs in working with documentation. The well-designed reading mode of WPS Office enables searching in document and rearrange the document according to the aspect ratio, making it more comfortable and convenient for you to read. The application also make easy the editing and transfer of documents.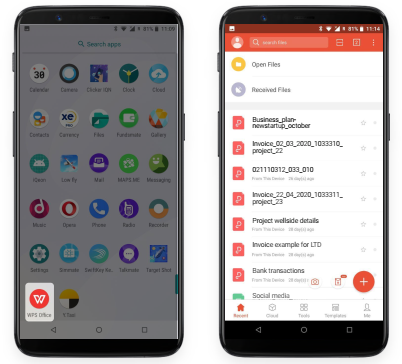 FINANCIAL APPLICATIONS
XE Currency Pro is a universal financial app that provides users with up-to-date information – from exchange rates to charts, allowing global money transfers. The application can work without Internet access, using the latest data. XE Currency Pro puts all your currency needs into one app.
Bitcoin Ticker Widget is an indispensable application for cryptocurrency holders. The application allows you to monitor the status of your cryptocurrency portfolio on major exchanges, set up notifications on reaching important price levels, and provides market analytics tools.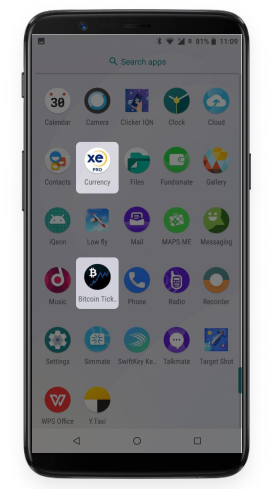 NAVIGATION SOFTWARE
Maps.me provides fast, detailed and entirely offline maps with turn-by-turn navigation. Use driving, walking and cycle navigation anywhere in the world. Save mobile data, no internet is required. Great choice of guides for a perfect journey. You can also search through different categories, make hotel bookings and share your location.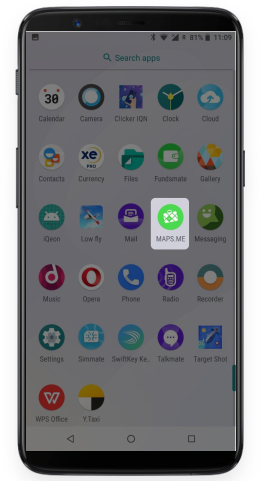 RECORDER
The standard application set includes "Recorder". This is a convenient tool for recording video from the screen, for example, game clips, video calls and live broadcasts. It could be also used as a voice recorder.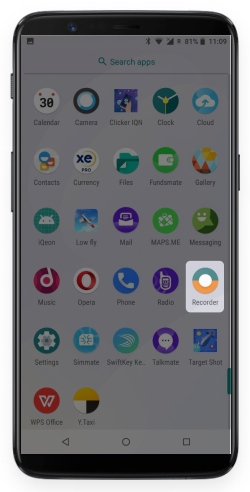 PRE-INSTALLED SOFTWARE
We have created six exclusive applications for convenient and safe communications and data exchange. These are Mail, Simmate, Fundsmate, Radio, Talkmate and Cloud. These apps are displayed on the main screen of your Binom device.
Warning!
Unique applications Mail, Simmate, Fundsmate, Radio, Talkmate and Cloud are not presented in application stores and are available only to Binom mobile platform users. These applications cannot be uninstalled.

Mail
Binom Mail is a mobile email client app with a familiar interface and reliable server infrastructure, encryption, spam filters and antivirus. This is a secure email service for Binom smartphone owners.

Simmate
Simmate is an application for managing a pre-installed Eurosim travel roaming SIM card, reviewing expenses and checking current rates. You do not need to go to website or call the operator - all relevant information is available in the application. You can also check your phone number, call support and set up the call functions. The application works without an Internet connection.

Fundsmate
The Fundsmate app facilitates everyday financial transactions. This is an easy way to:
Check your account balance
Replenish the card's balance
Make instant money transfers to other users
Top up your SIM card credit
All of the above operations are available directly in the Fundsmate application on your mobile device. The application operates without an Internet connection through mobile operators internal channels. It means that even in the most unforeseen situation you will always get financial support.

Radio
Binom Radio is a way to communicate with other owners of Binom devices without providing them with your phone number. Full set of communication modes: Walkie-talkie, Conference, Broadcast and Chat. You can share your location, configure additional privacy settings and create different types of rooms for confidential communication. Simplex communication (one-way data transfer) in Walkie-talkie mode, unlike duplex communication used for voice calls in other messengers, can provide voice communication even with 2G network coverage, that is, where other systems simply will not work. Voice communication in Binom Radio is masked as ordinary web traffic, which makes it difficult to identify and block it. Communication in Binom Radio is protected by end-to-end encryption and is totally anonymous. Application has no server data storage.

Talkmate
Talkmate provides access to all services that a modern mobile messenger can offer. The application allows you to create private and group chats, make voice calls, send files and use the WEB interface. Moderators of group chats can remove/add members and impose restrictions on users who overstep the chat rules. The confidentiality of communication is ensured through end-to-end data encryption.

Cloud
The primary purpose of Binom Cloud is to create, read and restore backups of certain applications and user files of Binom smartphones. The practical use of Binom Cloud is that you can control the displaying of data stored on your smartphone (delete and restore as needed), as well as restore all your data from the Cloud in case of purchase of a new Binom device. Backups are encoded with a symmetric key on the smartphone side and uploaded to the server. The server stores the last 12 copies of backups of certain types of user data. You can also access application via WEB interface.
IN THE BOX
Accessories included with Binom smartphone:
Pre-installed roaming SIM card
Transparent case for smartphone
Screen protector (pre-installed)
Tool to remove the SIM card
DASH charger
USB Type-C cable
User Manual
Transparent case, user manual and tool to remove the SIM card are hidden in the box inside the main packaging of the Binom smartphone.